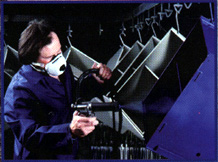 Environment, Safety and Health
CoreStaff, Inc. takes an active approach to promoting employee safety and managing risk. First step in our safety agenda is a detailed interview and reference check for each employee. Secondly, each employee is required to view CoreStaff, Inc.s specially produced videos. Applicants are also quizzed on the contents of our safety and health programs.
CoreStaff, Inc. works in partnership with your companys personnel production and project managers. We conduct both formal and informal work-site safety assessments.
We emphasize injury prevention. Were experienced in training for work related job skills, manual dexterity for assembling, visual accuracy for inventory selection and safety for all concerned. The use of proper safety equipment is emphasized throughout training.
CoreStaff, Inc. adheres by the strictest standards of safety in the work place. We will also show you how you are best protected by the insurance coverage available in the industry to meet your needs.